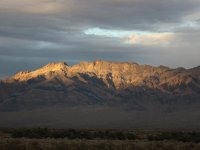 Pahrump Point
Last light on Pahrump Point (5,740') from the camp in the Chicago Valley. The peak is located northeast of Shoshone, CA off of State Route 178, east of Death Valley National Park and just west of the Nevada state line.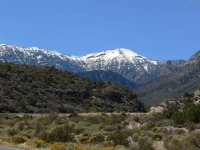 Mount Charleston
A snowy Mount Charleston from Kyle Canyon. Mount Charleston is right out of Las Vegas, and is nearly 12,000 ft high.
All are welcome to come with us on our climbs in the desert. Anyone may subscribe to our quarterly newsletter, the Desert Sage, for $10 per year. The Desert Sage includes a schedule of upcoming trips with information on how to sign up with the leaders, write-ups of recently led trips, and other articles of general interest about the deserts of the Southwest. The Section membership application form can be downloaded in Word format or Adobe Acrobat format. Those who would like to become members of the section may do so after climbing 6 peaks on the list and joining the Sierra Club. Please contact the Membership Chair for additional information.