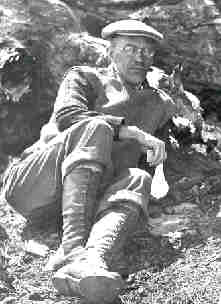 Niles Werner
(1889-1965) Active 1927 (37.2 Years) Local Hikes; DPS; Camping; HPS Niles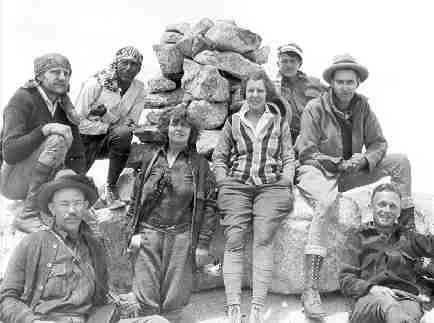 Werner was an engineer who worked on Boulder Dam and became enamored of the desert. He led many local outings as well as further afield to the Sierra Nevada and various desert locations. He led the first official Desert Peaks Section outing.

Here he is shown near the summit of Mt. Williamson (San Gabriel Mountains) on a weekend trip to Buckhorn Flats April 23-24 1932

Frank Noel and several other Great Leaders (*) celebrated the 4th of July 1930 on the summit of Mt. Langley in the Sierra Nevada. Noel is sitting bottom right. At the upper left is Kasper Casperson* and next to him wearing the white shirt is D.D. Chalmers*. Sitting below them is Niles Werner*. All others are unidentified.
Niles and Louise Werner
with their dog Bundle early
1950s possibly Joshua Tree.
Louise Werner and Niles
Werner sitting on fenders of their vehicle at
unidentified desert location. Handwritten
date of 1956 with question mark on slide
mount. Slide mount stamped with
processing date of November 1978

S I E R R A C L U B C H R O N O L O G Y T H R U 2 0 0 6
| | |
| --- | --- |
| 1932 | Member - Schedule Committee |
| 1933 | Member - Schedule Committee |
| 1940 | Member - State and County Parks Committee |
| 1941 | Member - Schedule Committee |
| 1942 | Joined the Desert Peaks Section |
| 1942 | DPS Emblem |
| 1943 | Member - Chapter Executive Committee |
| 1946 | Treasurer - Desert Peaks Section |
| 1959 | Last year active in the Desert Peaks Section |
| 1963 | Member - Mountaineering Training Committee |
Desert Peaks Section Angeles Chapter Sierra Club
© Copyright 2003 - All Right Reserved